In our first three blogs of this series, we discussed how educational outreach can lead to opportunities to facilitate more effective patient care locally and strengthen relationships with referring providers. We have focused on the structure of these efforts; now we will focus on the provision of these services and how to differentiate your efforts from others to ensure your investment pays dividends.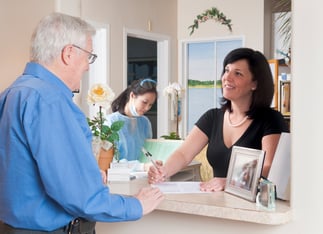 It is important to remember that you only have one opportunity to make a first impression. This initial contact is frequently by telephone and a direct answered number by someone knowledgeable about transplant and the services you provide can mean the difference between a referral and a missed opportunity. As is frequently the case, an initial investment in well trained knowledgeable staff with excellent client service skills will facilitate your ability to create a positive, lasting first impression.
Another quality measure we suggest is that there is a distinct phone number that provides direct access for physician to physician contact. Whether this is for a referral for transplant or a more acute problem, the referring physicians will appreciate the ease of access as well as the caché it adds to their practice when they can immediately reach a specialist with their patient in front of them.
When a patient arrives, a welcoming and inviting environment is your next opportunity to make that positive, lasting first impression. During this first face-to-face encounter, your front office staff should make the patient feel welcome and obtain all necessary information regarding insurance and intake forms. In addition, streaming video and brochures in your waiting room related to other services you provide can encourage patients to ask questions that will improve their overall experience and healthcare. This material can provide information on what differentiates your program from others and can include presentations of your staff's experience, awards received, rankings and outcomes, center of excellence status, practice philosophy statements and other services that you provide. For example, multiple organ transplant, hepatobiliary surgery, complex GI and hepatitis C management might all be featured, based on your particular program.
During these interactions, having information readily available is very important. This begins when your staff discusses scheduling on the phone, continues through the visit and afterwards when working with clinical patient information. Investment in appointment management software, as well as having access to the transplant EMR in your outreach location, provides ready access to the clinical information needed. Integration of data through technology platforms often provides a more cost effective and accurate means than manual data entry to input information into your database for ready access. Once this is accomplished, you can decide whether your referring physicians and patients can access their records in a read-only fashion.
Please join me Wednesday, September 23, 11am central for a deeper dive into growing your transplant program through Outreach. Feel free to share the registration link with colleagues who could benefit from attending.